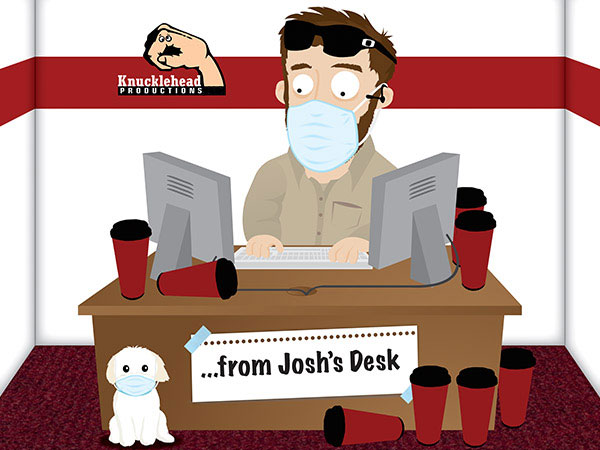 From Josh's Desk: STAY ON COURSE
March 24, 2020
Tommy's Business is Ready
Had a great discussion today with a good friend who owns another agency. We've both been having similar discussions with clients concerning the current crisis and subsequent decisions being faced by local businesses. I think a lot of decision makers could benefit from the following example.
Let's run the numbers… for this example I'm going to use Tommy the roofer. Tommy is concerned about the loss of business during this period of businesses being restricted/shut down. Here is a snapshot of our discussion with Tommy.
I'm going to use a simple example to highlight the underlying point. Here are a few general assumptions:
We'll project that the economy will begin to recover in 45 days (May 15th).
There are 8 similar-sized roofing competitors that service the same area as Tommy. (total of 9 roofers)
There are 90 potential roofing jobs (per month) in the area that Tommy and his competitors service. None of these are being currently serviced.
During normal times of the year those 90 jobs per month are averaged between the 9 roofing companies. That means that Tommy and each of his competitors win on the average 10 bids/month each.
Tommy and his competitors are going to do one of three things in the next 45 days:
There are going to be businesses that cannot or choose not to remain open. This can be for any number of reasons, from liquidity concerns to early retirement. The reason(s) don't matter for this example.
Some of the roofers remain open but plan poorly or fail to plan at all. They batten down the hatches to weather the storm. They may layoff/furlough employees and temporarily suspend front-facing advertising until the economy begins to recover.
Some will plan appropriately to acquire as much business as possible when stay-at-home requirements are lifted. (for this example Tommy is part of this group).
Success sees opportunities. Without moral judgement and regardless of fair value, the inevitable truth is that the current business landscape will thin the herd. Without going on a full head-trip all of us fall into certain categories. Do we seek pleasure or do we avoid pain, do we see adversity as opportunities for growth or as roadblocks to success?
Given the law of averages, a third of the roofing companies each fall into the categories above. Three will close, three will shelter in place and three will prepare for growth.
Once the shackles are off both businesses and homeowners, those homes that needed roofs in March and April will still need roofs or roof repairs. But only 3 of the 9 roofers have marketed to receive that business. Those customers will be absorbed and serviced by Tommy and the companies that planned appropriately. That's 30 jobs from March and 30 jobs from April, plus those jobs still available to bid in May.
Normally it would have been 20 jobs for that 2 month period, now it's 60. In addition, some of the other roofers have left the market while emerging companies will take at least 3-6 months to ramp up their advertising and name recognition. There is a very high likelihood that this year will be a great year for Tommy.
Yes, this is a simple example with round numbers, but the premise is sound. Now is the time to plan for growth. Use the time wisely, interview potential employees laid off by competitors, build your team, get your SEO and marketing strategies in place and take action. This difficult time is just temporary. Take advantage of the uncertainty consuming your competition.